Recipes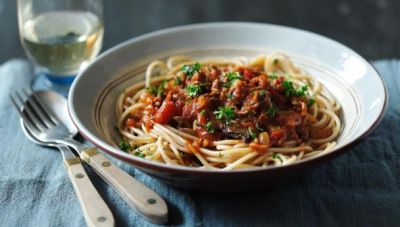 Spaghetti Bolognese
INGREDIENTS:
INSTRUCTIONS:
Heat the olive oil in a large saucepan over a medium heat. Add the mince and the onion and fry for five minutes, stirring occasionally, until the mince is browned and the onions softened.

Add mushrooms and carrot, cook for around one minute, then add tinned tomatoes, vegetable stock, tomato purée, Worcestershire sauce and freshly ground black pepper. Stir well and bring to the boil, then reduce the heat to simmer for 15-20 minutes, until the sauce has thickened.

Place the wholemeal spaghetti in a deep saucepan full of salted boiling water and cook according to packet instructions, then drain.

To serve, divide the cooked spaghetti between four dishes, spoon equal portions of Bolognese sauce over each and sprinkle with parsley.
CALORIES: 413 (1 serving)
MACROS: 56c/23p/11f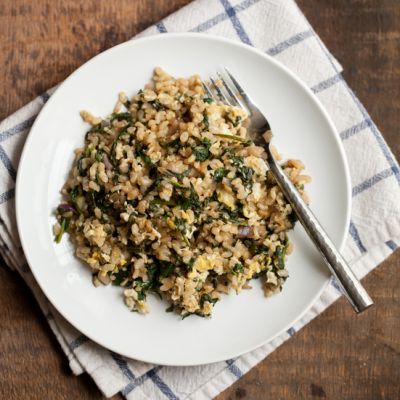 Breakfast Fried Brown Rice
A great way to use leftover cooked brown rice, this delicious fried rice made with thinly sliced scallions, chopped spinach and egg takes just 15 minutes.
INGREDIENTS:
1 cup short-grain brown rice (or 3 1/2 cups cold cooked brown rice)
4 cups water
1 tablespoon untoasted sesame oil or peanut oil
4 scallions, thinly sliced
1 tablespoon rice wine vinegar
1 tablespoon soy sauce, plus more for serving
2 cups chopped spinach
2 eggs, lightly beaten
Salt
Freshly ground pepper
Hot sauce, for serving
INSTRUCTIONS:
In a medium saucepan, combine the rice with the water and bring to a simmer. Cover and cook the rice over low heat until tender, about 30 minutes; drain.

In a large, nonstick skillet, heat the sesame oil until shimmering. Add the scallions and cook over moderate heat until tender, 2 to 3 minutes. Stir in the cooked brown rice, vinegar and soy sauce and cook until rice is heated through, about 3 minutes. Add the spinach and cook until wilted, 2 to 3 minutes longer.

Push the cooked rice mixture to the sides of the skillet and add the lightly beaten eggs to the middle, stirring until cooked, 1 minute. Mix the eggs with the rice. Season with salt and pepper and serve hot with soy sauce and hot sauce.
CALORIES: 483 (1 serving)
MACROS: 75c/14p/14f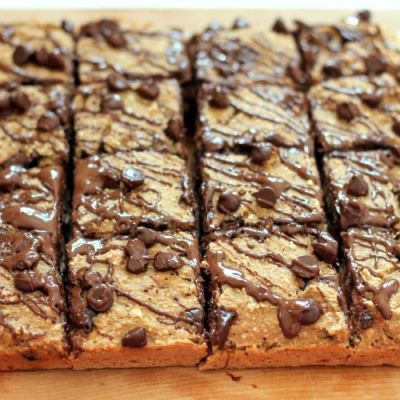 Healthy GLUTEN-FREE Banana Bread Chocolate Chip Oat Breakfast Bars
Amazing Banana Chocolate Chip Oat Breakfast Bars – they taste like banana bread! No flour, butter, eggs, or dairy in this healthy recipe!
2 1/4 cups gluten free oats
1/2 teaspoon aluminum free baking powder
1/2 teaspoon baking soda
1/4 teaspoon salt
1 teaspoon cinnamon
3 medium ripe bananas
2 teaspoons pure vanilla extract (gluten free, if desired)
1/4 cup unsweetened applesauce
1/4 cup honey (agave nectar if vegan)
1/3 cup chocolate chips (vegan, if desired)
For chocolate drizzle:
2 tablespoons chocolate chips (vegan, if desired)
1/2 teaspoon coconut oil
Preheat oven to 350 degrees F. Spray 9x9 inch baking pan with nonstick cooking spray.
To make oat flour: Place oats into blender or food processor and blend for 1-2 minutes until oatmeal resembles flour. You may need to stop blender and stir oats a couple of times to ensure that all oats have been blended. Transfer oat flour medium bowl; whisk in baking powder, baking soda, salt and cinnamon; set aside.
Place bananas, vanilla, applesauce, and honey into blender; blend 1-2 minutes or until smooth and creamy. Add to oat flour mixture and mix until just combined.
Gently fold in 1/3 cup of chocolate chips. Pour batter into prepared pan, spreading evenly with rubber spatula. Bake for 15 minutes or until knife inserted into center comes out clean or with just a few crumbs attached. Cool 10-15 minutes on wire rack.
Prepare drizzle by adding 2 tablespoons of chocolate chips and coconut oil in microwave safe bowl. Microwave on high 30 seconds; stir well to combine then drizzle over the top of bars. Cut bars into 16 squares and enjoy!
Bars can be frozen. Simply bake, cool, cut; store in ziploc bag. Reheat individually for 30 seconds in microwave.

Make sure you read all ingredients and nutrition info to ensure recipe is gluten free/vegan, if that is what you desire.

Fold in 1/4 cup coconut flakes or extra chocolate chips for an even tastier treat!

Extra ripe bananas are best for this recipe.
CALORIES: 116 (1 serving - 2x2 Square)
MACROS: 23c/2.5p/2f